Obama Ordered To Denver Bunker By US Military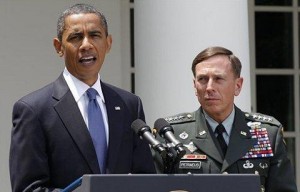 A disturbing report prepared by General Alexey Maslov, the Senior Military Representative of the Permanent Mission of Russia to NATO, states that he has been notified by the Americans of their plan to hold a DEFCON 1 "Cocked Pistol" maximum readiness alert drill on 27 September which will be overseen by President Obama at one the United States most secure bunkers located beneath the Denver International Airport.
Under the SALT I Strategic Nuclear Arms Control Agreement signed between Russia and the US, both parties are required to notify the other in all cases of such maximum readiness drills occurring, but are not required to state their reasons for doing so.
General Maslov states in his report, though, his concern over this drill is "heightened" due to last months nuclear attack on the Central Intelligence Agency (CIA) branch of the intercontinental military tunnel complex between Washington D.C. and Denver, and which we reported on in our 24 August report Russia Reports Nuclear Explosions Hit Vast US Military Tunnel Network.
Important to note is that shortly after the devastating attacks on American on 11 September 2001, the Bush regime moved to completely militarize the CIA by placing as its Director former US Air Force General Michael Hayden who served in that capacity until February, 2009 when Obama then put in place the former US Army intelligence officer Leon Panetta to run this most powerful of spy agencies. After Panetta, Obama put Americas top general David Petraeus in charge of the CIA barely a week after the aforementioned nuclear attack upon it.
The fears of both the Bush and Obama regimes regarding the CIA were due to their complicity in the 11 September 2001 attacks upon America utilizing their al Qaeda terror network headed by their main asset Osama bin Laden, otherwise known by his code name of "Tim Osman," that was run jointly with Pakistan's Directorate for Inter-Services Intelligence (ISI) and funded by the Saudi royal family.

Important to note is that Russian intelligence services were long aware of the CIA-ISI "Tim Osman" operation after it had been infiltrated by top FSB agent Viktor Bout who delivered to Marvin Bush, President George Bush's younger brother, and Wirt Walker III, George Bush's cousin the approximately 15 tonnes of Russian military PVV-5A Plastic Explosive plastic explosives used to bring down the World Trade Center buildings.
"Important to note about Marvin Bush and Wirt Walker III is that at the time of the 9/11 attacks they were both directors of the American security company named Stratesec (formally known as Securacom) which was given a $8.3 million contract to help provide security at the World Trade Center and which the weekend prior to the attacks completely closed this massive skyscraper complex for 36 hours to "upgrade" its security system.
Now Bout in being curious, to say the least, as to why the Bush Family needed so much Russian explosives for their "upgrade" of the World Trade Center complex was "invited" by Marvin Bush to come to New York City to watch "the big show", an offer Bout did not refuse. And so the night prior to 9/11 Bout traveled to New York City where he was met by Bush "operatives" working for the Federal Emergency Management Agency (FEMA), who "coincidentally" had scheduled an emergency exercise for the morning of September 11, 2001 that all too soon became real.
Bout was given a FEMA security pass that gave him unhindered access to the aftermath of the catastrophic attacks upon the World Trade Center complex which these reports document he took full advantage of. Unfortunately for the Americans though was that Bout's "visit" wearing his FEMA "credentials" was filmed by FEMA's official videographer Kurt Sonnenfeld, who was the only film maker given unrestricted access to the 9/11 site."
Related articles
Filed under: news Tagged: | 11 September 2001, Alexey Maslov, Central Intelligence Agency, Denver, Federal Emergency Management Agency, obama, Obama Ordered To Denver Bunker By US Military (Unconfirmed!), Osama bin Laden, United State, world trade center